-Demo unit-TruMedic InstaShiatsu+ MC-750 Massage Chair
Buyer is put on a waiting list and as we get these in we will ship!

No discount code allowed as this is a special buy

Top selling Massage Chair!
Demo unit, this means open box, demo units are extremely rare and this saves the customer tons of money! You still get warranty. Free shipping and all the same features as a new chair, just without the box! 
*may have a slight scratch or cosmetic issue, we will do our extreme best to get you the best chair possible!
1 year warranty on demos! Save huge and be protected!
Mc-750 TruMedic
Experience Regular Massage Therapy at a Fraction of the Cost. Revolutionary sleek design, this chair stands out in any room. New technology has enabled Trumedic to introduce an industry first "wave massage" rollers on a ho down axis and now can slide left to right creating an even better experience ! Just like how massage therapist do it! 
Sit back and relax with a convenient massage in the comfort of your own home or apartment with truMedic's most compact and luxurious massage chair yet!
Its built-in Bluetooth speakers enable you to listen to any Bluetooth-compatible device through the chair, and its built-in USB port is perfect for keeping your devices at full-charge.
Finally a chance to put a massage chair in any room. This sleek new design fits through doors allowing this chair to reach areas only dreamt of before. Wake up and sit in this massage chair in your master bedroom. Pure luxury at its finest and with Heat!
Product details have been supplied by the Manufacturer, and are hosted by a third party.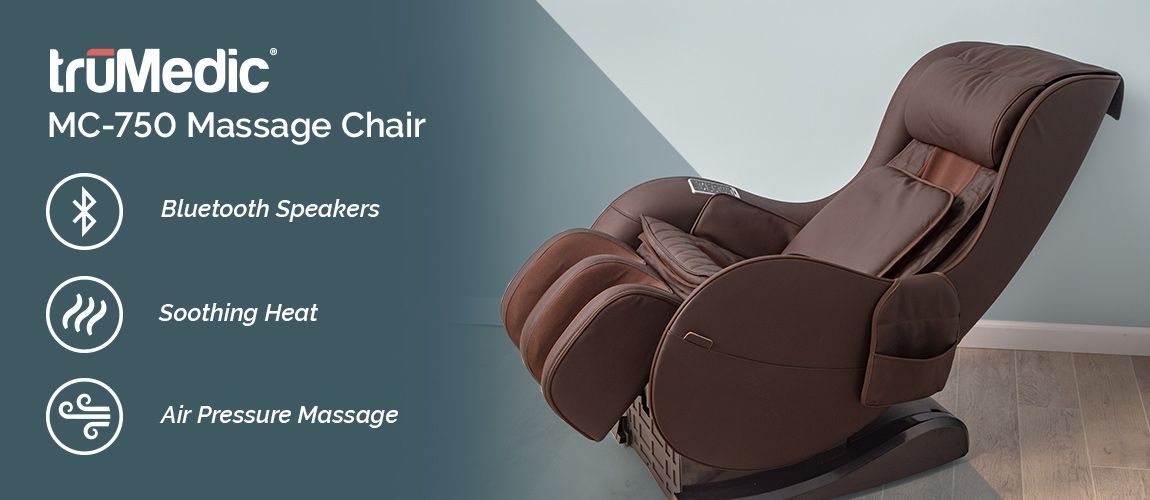 Customize Your Massage
The MC750 comes equipped with three different Shiatsu massage programs. You can also control the heat, air compression, recline, and massage zone from your built-in control panel. From bankers to bodybuilders, the MC-750 has the right massage for everyone!
For a deeper, more relieving massage you can always remove the cushions behind your head and back.
Features Sleek, High-Quality Finish
The MC-750 is upholstered with a high quality material, maintaining a stylish and polished look; Sold in brown or black.
 Zero Gravity & Bluetooth
The MC-750 is upholstered with a high quality material, maintaining a stylish and polished look; Sold in brown or black. Relax to your favorite music with built-in Bluetooth speakers.
Heat-Assistance
Heat-assisted massage promotes relaxation and helps release muscle tension.