TOP 5 Impact therapy guns
TOP 5 MASSAGE GUNS IN NORTH AMERICA
We have dived in , tested and experienced all of these new impact therapy guns coming to the market. A common question asked by many customers" Why would I pay $399 when I see one on Amazon for $79"? When it comes to many moving parts its so important to buy the right item. 
We look at build quality, how loud a impact therapy gun can be, their price points, design and how the function. We were not impressed by majority of these devices on the market,  From far away they all look the same but performance is completely different 
These are our top 5 Impact devices based on testing them.
1) Theragun or now known as Therabody specializes in manufacturing these devices. This app controlled machine is unique to any other on the market. It is by far the quietest, longest lasting and most powerful. The con is the price. Most athletes end up going with something like this. The battery life on this is the best we have seen.  
Special Buy Price-Theragun PRO – Relaxacare
2) TruMedic Impact therapy gun MAX
WOW. We were impressed on functionality, this deep penetrating gun really got into those knots. Extremely quite and simple to use. This does not come with any app and we didn't like how it was packaged. Out of the box it is a favorite of ours to use.  This is a top seller due to its price point. This goes on sale twice a year. 
TruMedic- truRelief™ IMPACT Therapy™ Device MAX – Relaxacare 
3) Obusforme Pro Hot/Cold Impact gun 
This was a different experience than the rest of these units. The idea of having a cold or hot impact on certain muscles was a huge deal for many in our office. We do not know of any other device like this on the market and enjoyed this function . This is also approved by the American Chiropractic Association. 
OBUSFORME Active Pro Hot and Cold Massager – Relaxacare
4) Homedics Impact gun
Tons of cheap models on out in the market and don't hold any value. We must say for what you pay for this smaller device it holds big value.  Not to big, not to small, you can fit this in a gym bag and bring it anywhere with you! 
HOMEDICS Rechargeable Massager Gun – Relaxacare
5) Trumedic Micro Gun
This mini gun is amazing, stainless steel casing allows for this to be thrown around without any damage. Extremely portable and easy to use. We have 3 employees that golf and have all added this to their Golf bag. Don't be fooled, this small device has a punch! 
TruMedic-Premium Series micro impact therapy gun – Relaxacare
Stick with a name brand you can trust, there is tons of non branded low quality devices that wont last a long time or wont have the warranty. Dont hesitate to contact us if you have any questions
A common question, what are all the heads on these guns used for?
6
INTERCHANGEABLE MASSAGE HEADS
You'll find the perfect massage tool to workout your aches and pains. Easy to change.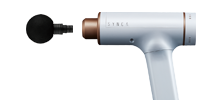 ROUND

Round shape for use anywhere on the body such as arms, back and hips.

FLAT

Flat Shape for large areas such as back, thighs and calves.

FORK

Fork shape for thin areas such as the neck, spine, and upper arms.

WEDGE

Wedge shape for muscle-bone boundaries on shoulders, back, etc.

BULLET

Bullet shape for deep muscle tissue such as joints, palms and soles.

DOUBLE

Double uses soft material for gentle massage of the whole body such as shoulder and thighs.
---